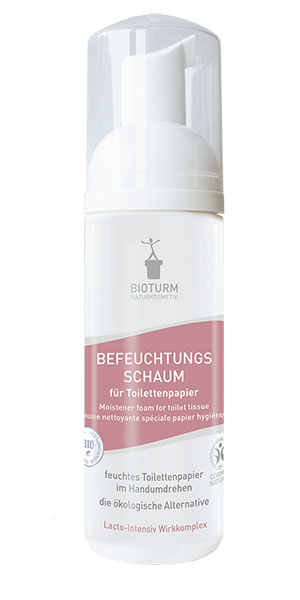 Content:
0.15
(€79.67* / 1 Liter)
Available, delivery time 1-3 days **
Product information "Bioturm Moistening Foam for toilet paper 150 ml"
The ecological alternative to moist toilet paper!
The innovative foam simply converts conventional toilet paper into moist toilet paper. Naturally ecological - to protect the environment and sewage treatment plants in contrast to moist toilet paper made of fleece. The special Lacto-Intensive active complex combined with organic extracts of witch hazel and chamomile soothes the skin.
Area of application:
Rich and nourishing foam for thorough and gentle cleaning of the anal area. Also applicable for skin problems in this area (e.g. haemorrhoids). Not recommended for baby care.
Directions for use:
Comfortable and easy handling, can be dosed as desired. Apply foam to toilet paper folded several times and cleanse the anal area. Toilet paper can then be disposed of in the toilet as usual without environmental damage.
water, lacto-intensive active complex*, glycerine, polyvalent higher alcohol**, alcohol, amino acid, betaine, witch hazel extract*, camomile extract*, lactic acid, coconut/sugar based detergent, vegetable oil, salt
* from controlled organic cultivation
** from plant origin
free from synthetic preservatives, colourings, PEG, paraffin oil