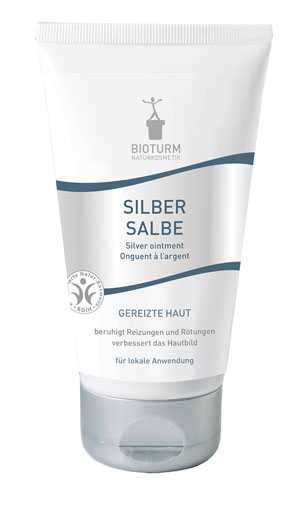 Content:
0.15
(€253.00* / 1 Liter)
Available, delivery time 1-3 days **
Product information "Bioturm Silver Ointment 150 ml"
Bioturm Naturkosmetik combines micro-silver with the proven active ingredient zinc and have thus created an ointment that soothes and provides relief as a universal helper for neurodermitic, attacked, reddened or itchy skin. Pure plant oils provide the skin with high-quality lipids and moisture. Irritations subside, the skin calms down.
The silver ointment for local application on more severely affected areas of the skin reduces inflammation and redness, cares for the skin and makes it supple, especially during the flare-up phase. In this way, your problem skin gets what it needs to become healthy and stay healthy!
Due to the antibacterial effect of the silver, the silver ointment also improves the appearance of young problem skin (impure skin / acne).
The silver used by Bioturm is micro-silver which, due to its size, cannot penetrate the skin but remains on the skin and is washed off during the next cleansing. It is NOT nano-silver.
Vegan
Field of application:
Therapy-accompanying care for neurodermatitis and psoriasis and for basic care of red, chapped and itchy skin. Also applicable for young problem skin (impure skin / acne).
Application:
Apply Silver Ointment to affected skin areas several times a day. For larger skin areas, the
silver lotion
is recommended, which can be spread over a large area due to its somewhat lighter consistency.
Ingredients:
Aqua, Glycerin, Helianthus Annuus Hybrid Oil*, Simmondsia Chinensis Seed Oil*, Arachidyl Alcohol, Glyceryl Stearate, Cetearyl Alcohol, Silver, Xanthan Gum, Zinc Oxide, Silver Citrate, C14-22 Alcohol, Arachidyl Glucoside, C12-20 Alkyl Glucoside, Tocopherol, Behenyl Alcohol, Citric Acid, Oryzanol
* from controlled organic cultivation
free from dyes, PEG, paraffin oil
free from perfume and fragrances