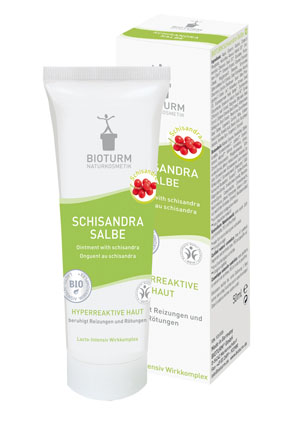 Bioturm Schisandra Ointment
Schisandra herb has been used for centuries in traditional Chinese and Tibetan medicine. It effectively reduces redness and inflammation of the skin and is thus a productive aid as therapy-accompanying care for psoriasis. Together with the contained sage extract, the Schisandra ointment has a calming effect and regenerates damaged skin areas. The lacto-intensive active complex strengthens hypersensitive skin and makes it pleasantly soft and supple again.Area of application:Itchy, hypersensitive and reddened skin. Therapy-accompanying care for psoriasis and inflamed skin areas.Application:Apply several times a day to affected skin areas. The rich ointment is easy to spread.
Content: 50 Milliliter (€25.90* / 100 Milliliter)

Bioturm Tonic
To revitalise and refresh the facial skin. The tonic convinces with the combination of lacto-intensive active complex from organic whey, hyaluronic acid and aloe vera and has a regenerating, skin-soothing effect and provides intensive moisture.Field of application:For refreshing and revitalising the facial skin.Application:Apply in the morning and evening after cleansing the face (with a cotton pad if necessary).
Content: 0.15 Liter (€73.00* / 1 Liter)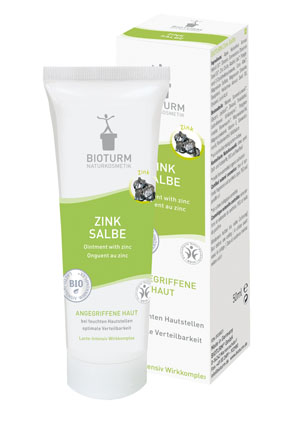 Bioturm Zinc Ointment
Highly effective zinc ointment for drying out moist skin areas, pimples and pustules. Thanks to its antimicrobial properties, zinc has a disinfecting and anti-inflammatory effect and dries out oozing, chapped and damaged skin. In the nappy area of babies as well as for pimples and pustules during puberty, the Zinc Ointment by Bioturm Naturkosmetik helps to noticeably improve the skin's appearance. The Lacto-Intensive Active Complex has an additional normalising effect; organic sunflower oil, organic jojoba oil and organic beeswax make the skin more supple and at the same time ensure optimal spreadability of the ointment, which is much easier to apply than classic 10% zinc pastes.Area of application:For slightly chafed and attacked skin areas. For drying out weeping pimples and pustules as well as in the nappy area of babies.Application:Apply to the affected skin areas several times a day as needed.
Content: 50 Milliliter (€23.90* / 100 Milliliter)