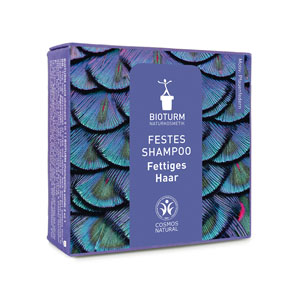 Content:
0.1
(€99.50* / 1 Kilogramm)
Available, delivery time 1-3 days **
Product information "Bioturm Solid Shampoo "Greasy Hair""
The new firm shampoos from Bioturm - soap-free and economical with skin-neutral pH value!
Mild cleansing substances gently clean the hair and make it easier to comb.
The solid shampoo is extremely economical and, in combination with water, forms a voluminous foam that can be optimally distributed even with longer hair. Rinsing with acidic rinse is not necessary - in contrast to commercial hair soaps.
The firm shampoos from Bioturm are vegan. They are an excellent hair care alternative for all those who want to contribute to the avoidance of plastic waste and thus protect the environment. The product is climate-neutral and we support a forest protection project that aims to preserve one of the last habitats for orangutans in Rimba Raya (Indonesia). The packaging is plastic-free and the solid pieces are delivered in a recyclable box made of grass cardboard, which reduces the use of wood.
Properties "Bioturm Solid Shampoo "Greasy Hair""
washing-active substance on plant Citric acid, washing-active substance on plant basis Shea butter*, higher fatty alcohol, water, glycerine, red clay, zinc salt, vegetable-based detergent birch extract*, lemon oil, drinking alcohol, washing-active amino acid, mixture of natural essential oils, table salt, ingredients of natural essential oils
* from controlled organic cultivation