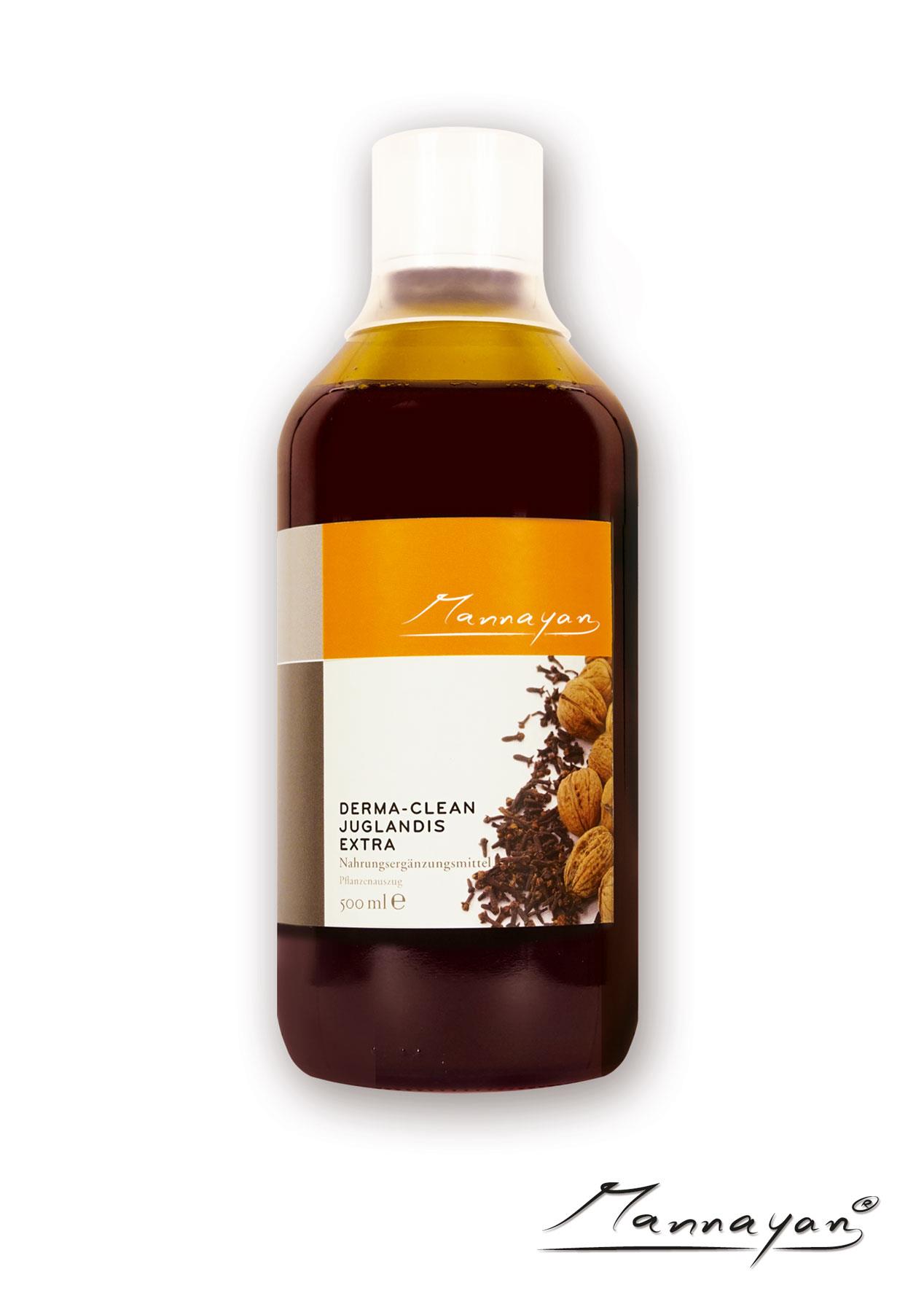 Content:
0.5
(€71.80* / 1 Liter)
Available, delivery time 1-3 days **
Product information "Derma - Clean Juglandis "
What is Derma-Clean Juglandis Extra?
A combination preparation of the three plants according to Dr. Hulda Clark :
Walnut (Juglans regia linne)

Wormwood (Artemisia absinthium)
Carnation (Syzygium aromaticum)
on the basis of levitated spelt distillate , contains approx. 17% vol. alcohol (liquid). With the plant extract of Juglandis a simple and uncomplicated way was found to combine all three plants in a tincture and to liquefy them.
The preparation of the tincture is extremely gentle and highly effective on levitated spelt distillate. By splitting the clusters in the spelt distillate, a unique storage of the information of the medicinal plants is achieved.
This offers decisive advantages:
The combination preparation facilitates dosage and administration
No toxic or allergic reactions, as no medical alcohol is used
Ideal for vegetarians, as standard capsules are usually made from gelatine. Even the very rare vegetable gelatine slips after ingestion and can also cause respiratory irritation.
Ingredients:
purified water, spelt distillate (17% by volume), vitamin C, extracts from walnut shells, cloves, wormwood
Suitable for:
Vegetarians, Vegans
Free from:
gluten, dairy products (lactose), preservatives, artificial colours and flavourings, genetic engineering
Recommended consumption:
2 daily 3 - 10 ml with 500 ml water or as instructed by the therapist with sufficient liquid. Not suitable for pregnant or breastfeeding women.
For pets: 1 teaspoon per 1 litre of water (for smaller drinking quantities, dose correspondingly less).
Do not exceed the recommended daily intake. Food supplements should not be used as a substitute for a balanced and varied diet.
Keep out of reach of small children. Store away from light, in a cool and dry place. Do not consume if the closure band is missing.
Properties "Derma - Clean Juglandis "
Free of:

Artificial flavors and coloring

, Dairy poducts (lactose)

, Genetic engineering

, Gluten

, Preservatives

Important Ingredients:

Vitamin C

Suitable for:

Lactose intolerance

, Vegan

, Vegetarian
purified water, spelt distillate (17% by volume), vitamin C, extracts from walnut shells, cloves, wormwood