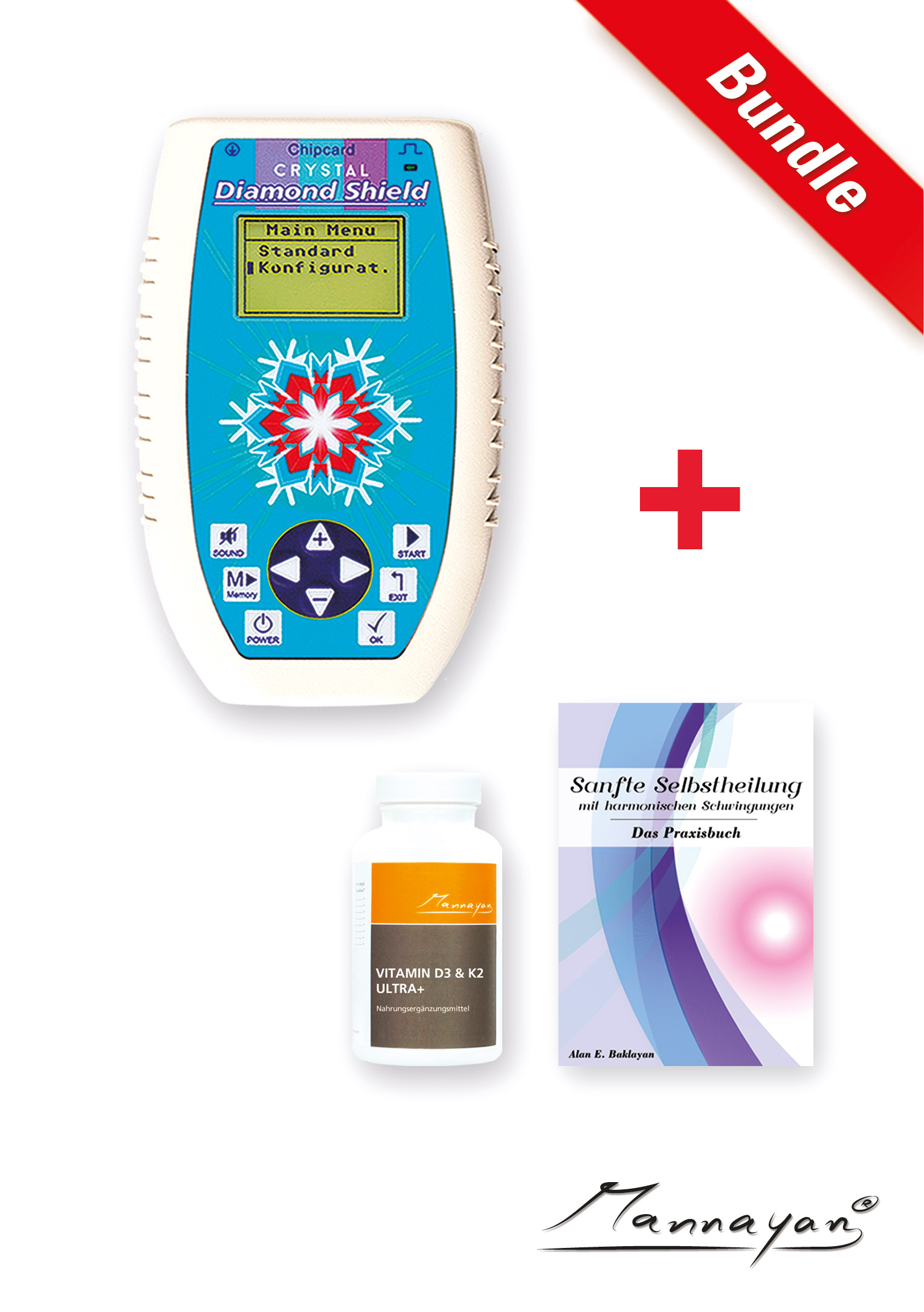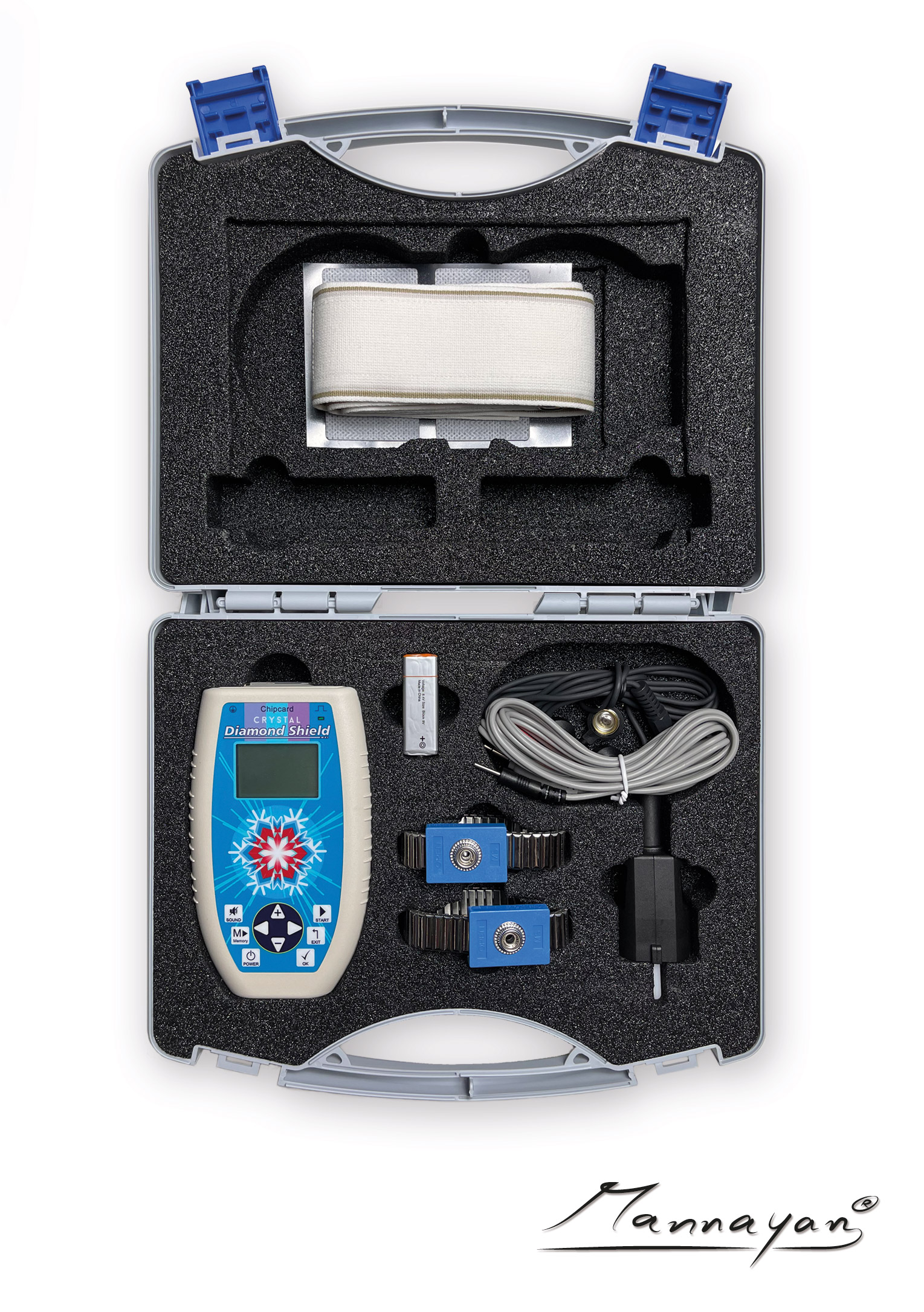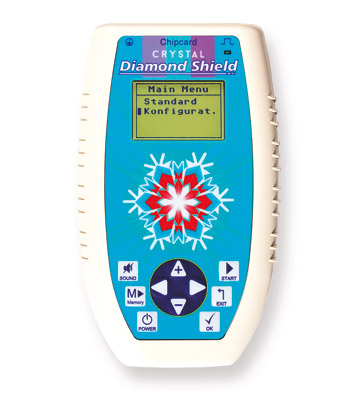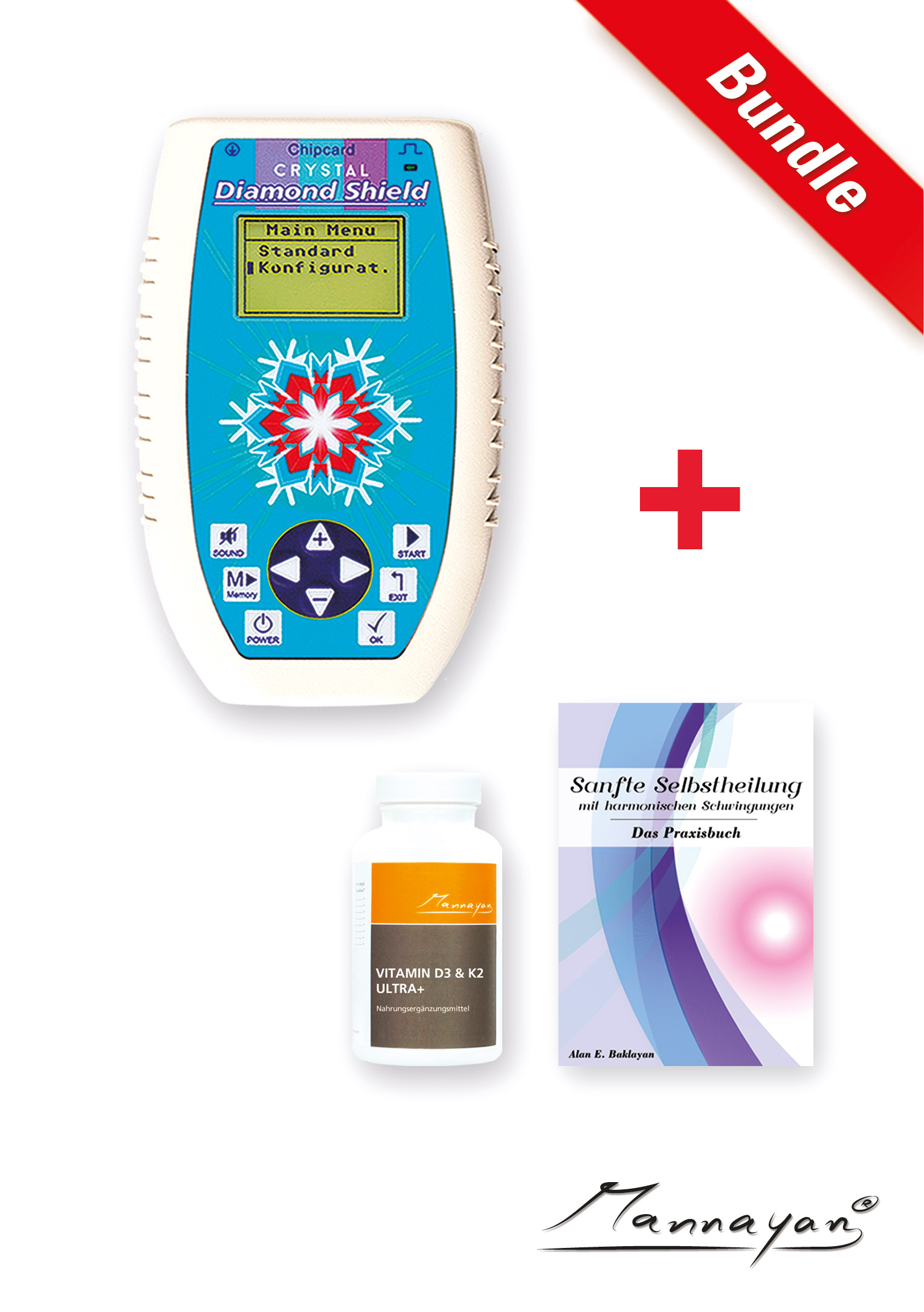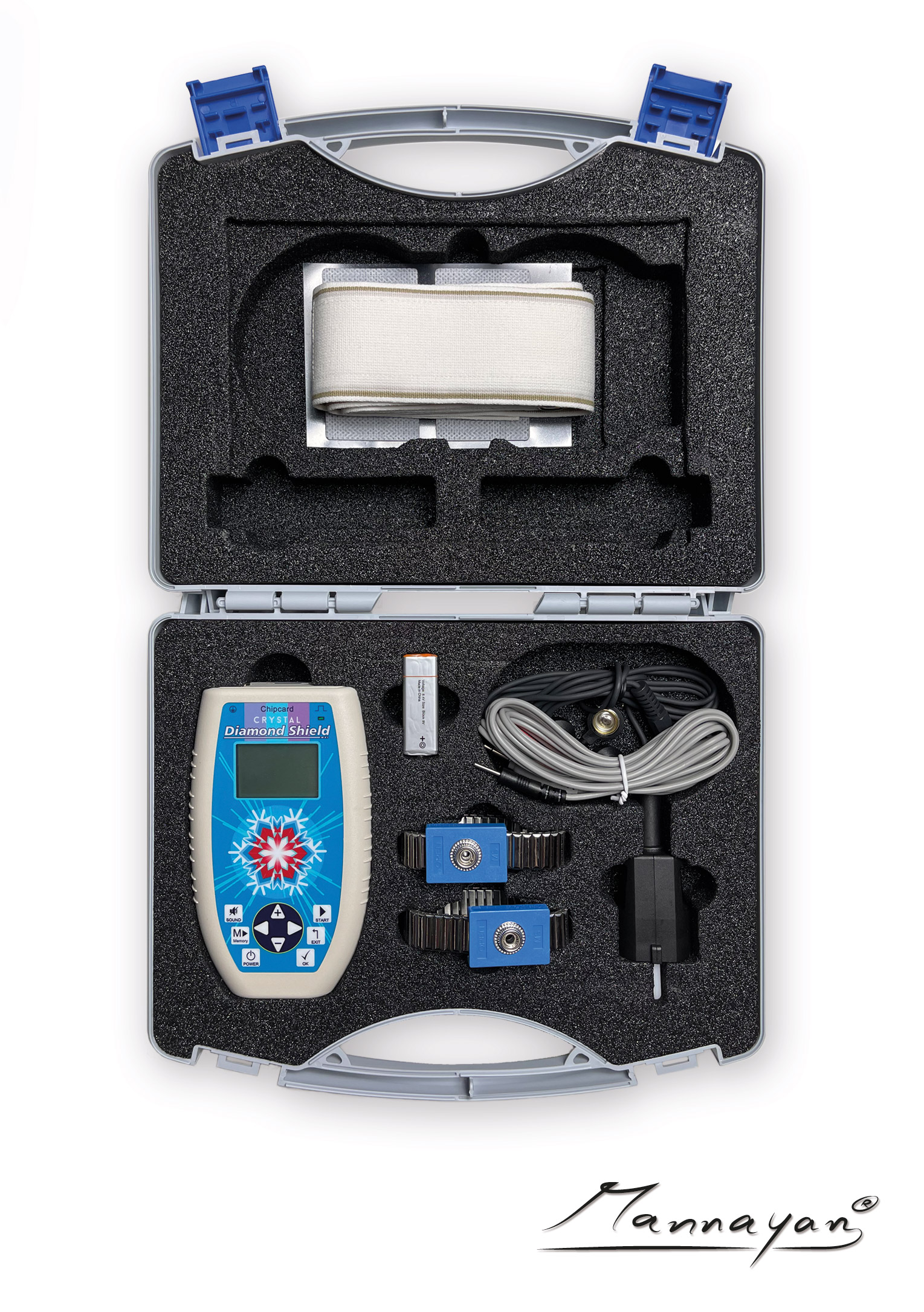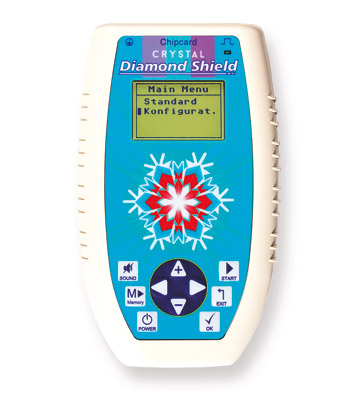 €549.00*
7.2%
€591.70*
(7.22% saved)
Available, delivery time 2-5 days **
Product information "Diamond Shield Crystal"
Well-being programmes according to Dr. Clark, Raymond Rife, Dr. Beck and Hp Baklayan
With the new Crystal programme for depth regulation of the entire meridian system
(for owners of a Diamond Shield Zapper this program is also available as a ChipCard)
With the Diamond Shield programme (protective shield through activation and harmonisation of the meridians)
Further programmes on over 30 additional chipcards for special applications are available as accessories
pleasant grounding through the discharge function
Diamond Shield IE Crystal Zapper
(Please let us know your belt size when ordering).
With the valuable Crystal programme
Well-being programmes for your zapper according to Dr Clark, Dr Rife, Dr Beck and HP Baklayan
New programmes:
Crystal
Diamond Shield
Relaxation
Feel good
GoldenStream
Innovations which are integrated in the included standard programmes and in the Diamond Shield chipcard programmes:
Memory function
Autostart function with or without signal tone
Key lock
Micro currents (up to 0.1 Volt)
Modulate: from 2 to 254 times modulation
Pulse-discharge (grounding); by setting pulses and discharging them into the ground, the effectiveness of all programmes is increased three times. (utility model protection registered)
Diamond Shield: the protective shield for your well-being; regulation, harmonisation, activation of all the meridians in 8 minutes From the previous programmes, all the frequencies were modulated, increasing their effectiveness.
Harmonical frequencies according to Baklayan; relaxation and well-being on all levels
What does the zapper do?
You can use the zapper using the frequency programs developed by Dr. Clark, Dr. Rife, Dr. Beck and HP Baklayan. 18 important programs are already included in the zapper. Many more are available on ChipCards.
The zapper is easy to operate thanks to the clear LCD display and the self-explanatory user guidance.
For reasons of advertising law we are obliged to the following information: We dissociate ourselves from any healing statements or promises. The products serve the general well-being and can have a supportive effect. All statements are within the meaning of the German Drug Advertising Act. Possible effects and effects of the application are purely empirical data which have not been scientifically proven.
Scope of delivery
Diamond Shield Crystal Zapper IE EMS
Metal wristband cuffs
Electrode cable
2 adhesive electrodes 100 x 50 mm
Earth cable (plug type F, "Schuko")
Socket tester
9V block battery and charger
Plastic case
Electrode belt for the use of the Crystal programme
When ordering, please indicate your belt width, measured one hand width below the navel:
XS.............. 70-90 cm
S............... 85-100 cm
M.............. 90-110 cm
L................110-130 cm
XL..............120-140 cm
XXL............120-140 cm
Super L... ..130-150 cm
Detailed advice: 089 - 18 90 84 60
We also look after you after the purchase
Disclaimer
Some of the statements made here and the products listed are based on medical knowledge that is not recognised by so-called conventional medicine. The statements made regarding indications and effectiveness as well as applications of the products listed here do not replace treatment by a doctor, therapist or alternative practitioner.
Manufacturer's warranty declaration
Mannayan GmbH & Co KG grants a two-year manufacturer's warranty for the purchased product from the date of purchase. Warranty claims are valid throughout all of Europe. There is no restriction of warranty claims as a result of the manufacturer's warranty conditions. This guarantees a right to the coverage of repair and shipping costs, which occur as a result of a defect during the warranty period. However, the warranty claim only remains valid if the defect is not due to improper handling or normal wear and tear. In the event of a warranty claim, you must contact the named company. You will then receive documents which will enable you to return the goods free of charge. Should the warranty claim arise outside Europe, the device must be returned to the manufacturer at the customer's expense. If a repair is no longer possible, the manufacturer will exchange it for an equivalent product.
Properties "Diamond Shield Crystal"
Scope of delivery:

2 adhesive electrodes 80 x 45 mm

, 9V block battery and battery charger

, Diamond Shield Crystal Zapper

, Earthing cable

, Electrode Cable

, Electrode belt for the use of the Crystal programm

, Metal wristband cuffs

, Plastic case

, Socket outlet tester