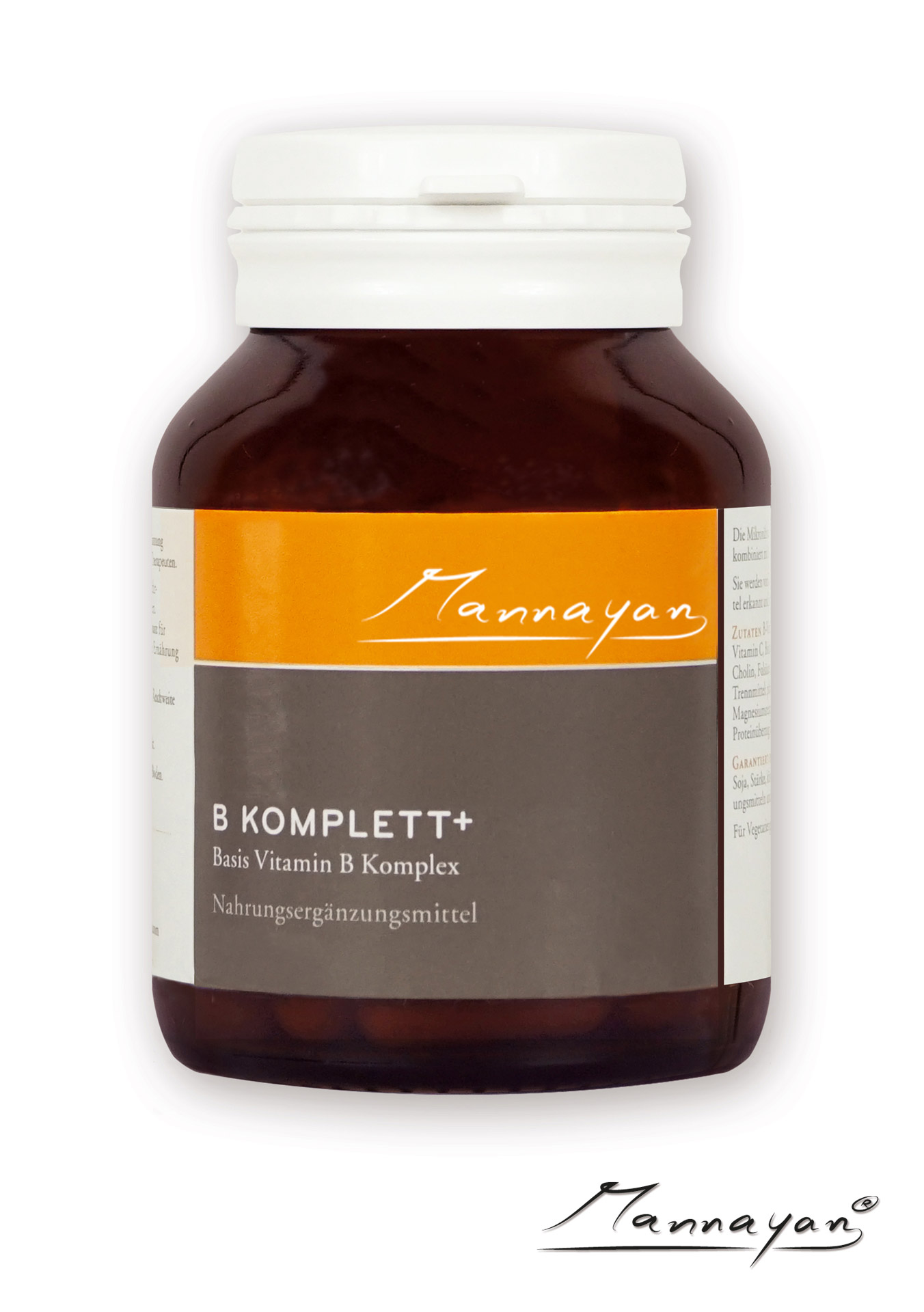 €31.30*
Content:
66.7 Gramm
(€46.93* / 100 Gramm)
Available in 3 days, delivery time 1-3 days
Product information "Mannayan B-KOMPLETT + (60 tablets)"
Food State |
What is Mannayan B-Komplett+?
Mannayan B-Komplett+ is a proven combination of vitamins, minerals and bioflavonoids. The particular popularity of Mannayan B-Komplett+ is based on the combination of B vitamins with their biological co-factors in the proportions that are naturally available in the body. Mannayan B-Komplett+ also contains magnesium and vitamin C.
What does Food State product mean?
Food State means nothing other than that the food supplement has food status - i.e. it can be absorbed by the body like a whole food. Unlike conventional food supplements, which often contain synthetic vitamins and minerals, Food State uses only natural, unprocessed foods. This means that the containt nutrients are in their natural form, as they occur in food.

What is special about Mannayan B-Komplett+?
The B-complex includes vitamins B1, B2, B3, B5, B6, B12 and folic acid. They resemble a chain the links of which are intertwined. Their combined strength is determined by the weakest link. Therefore, the right amount of the particular vitamins and their role related to each other plays an important role. Paraaminobenzoic acid (PABA) is a building block of the vitamin folic acid. The positive micro-organisms in the intestines can use it to produce folic acid, which is absorbed by the body. The B vitamins also work together with some other micronutrients. These include biotin, inositol and choline, as well as vitamin C and magnesium.
All the B vitamins are water-soluble and cannot be stored, with the exception of vitamin B12. In a constantly controlled nutrient activation process, the vitamins are added to fruit and vegetable concentrates in which they also occur naturally: e.g. vitamin C in citrus fruit pulp and biotin in maize concentrate. Hereby, each vitamin receives all the typical bioflavonoids and transport proteins for optimum bioavailability.
The minerals and trace elements are enriched in a food mixture, which is enzymatically extracted from Lactobacillus bulgaricus. Hereby, the minerals are surrounded by the necessary co-factors when they enter the human body.
Therefore, the vitamins and minerals contained in Mannayan B-Komplett+ have a high biological availability.
What micronutrients does Mannayan B-Komplett+ contain?
Vitamin C (in citrus pulp), magnesium citrate*, PABA*, choline, inositol*, niacinamide (Vit. B3)*, pantothenic acid (Vit. B5) (calcium D-pantothenate)*, pyridoxine (Vit. B6) (pyridoxal 5-phosphate)*, riboflavin (Vit. B2), thiamine HCL (Vit. B1)*, folic acid (incorporated in alfalfa concentrate), biotin (from cornmeal concentrate), cyanocobalamin (Vit. B12)*,
Auxiliary material: dibasic calcium phosphate dihydrate, stearic acid, magnesium stearate (fillers), vegetable cellulose (anti-caking agent), silicon dioxide (anti-caking agent), hydroxypropyl methyl cellulose (coating agent), glycerol, sodium carboxymethyl cellulose (anti-caking agent)
Free from:
Wheat, gluten, soya, starch, yeast, dairy products (lactose), preservatives, artificial colours and flavourings, genetic engineering
Suitable for:
Vegetarians, Vegans, Candida-sensitive persons
Recommended consumption:
Take 1 tablet daily or as advised by your therapist with sufficient liquid.
Content: 60 tablets
Do not exceed the recommended daily intake. Food supplements should not be used as a substitute for a balanced and varied diet.
Keep out of reach of small children. Store away from light, in a cool and dry place. Do not consume if the closure band is missing.

Due to the current shortage of raw materials, we are - temporarily - using a larger replacement can for this product.
Properties "Mannayan B-KOMPLETT + (60 tablets)"
Free of:

Artificial flavors and coloring

, Dairy poducts (lactose)

, Gluten

, Preservatives

, Soy

, Starch

, Wheat

, Yeast

Important Ingredients:

Folic acid

, Magnesium

, Vitamin B

, Vitamin C

Nahrungsergänzungsmittel:

Mannayan+ Produkt

Suitable for:

Allergy sufferers

, Candida sensitive persons

, Lactose intolerance

, Vegan

, Vegetarian
Nutrient information
One tablet, on average, contains:
Nutrient                                                 Amount                          % of the recommenden daily dose*
V
itamin C........................................60 mg............................................75
Magnesium....................................30 mg..............................................8
PABA...............................................25 mg.............................................+
Choline...........................................25 mg.............................................+
Inositol...........................................25 mg.............................................+
Niacinamide (Vit. B3).....................18 mg.............................................112
Pantothenic acid (Vit. B5)...............6 mg..............................................110
Pyridoxine (Vit.B6)..........................2 mg...............................................143
Riboflavin (Vit.B2)........................1,6 mg...............................................114
Thiamine HCL (Vit.B1)..................1,4 mg..............................................127
Folic acid......................................200 µg...............................................100
Biotin............................................200 µg...............................................400
Cobalamin (Vit. B12)........................1 µg...............................................40
*according to the Nutrition Labelling Regulation
+ no recommendation available