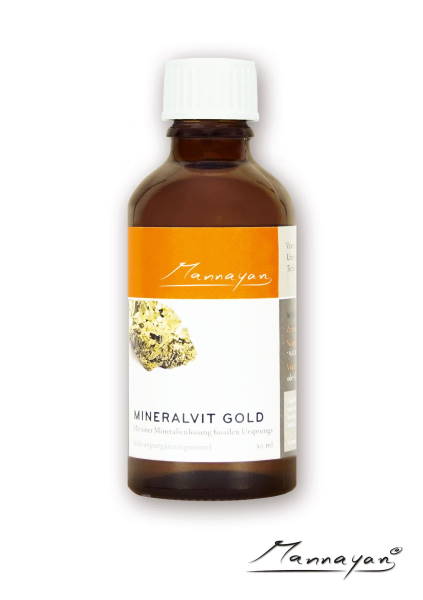 Content:
50
(€29.60* / 100 Milliliter)
Available, delivery time 1-3 days **
Product information "Mannayan MineralVit Gold 50 ml"
What is Mannayan Mineralvit-Gold?
Mannayan Mineralvit-Gold contains minerals and trace elements of fossil origin. The elixir of life from fossil plants is rich in minerals and trace elements. The basic material for Mannayan Mineralvit-Gold is a humus slate, which has stored the entire wealth of trace elements and minerals of the primeval abundance vegetation and is about 200 million years old. These valuable minerals are extracted in an elaborate leaching process which is subject to strict controls to ensure the highest possible purity.
Ingredients:
Mineral mixture of fossil origin, zinc sulphate, chromium(III) chloride, water
Suitable for:
Vegetarians, Vegans
Free from:
gluten, dairy products (lactose), preservatives, artificial colours and flavourings, genetic engineering
Recommended consumption:
Shake well before use! 10 drops (= 0.5 ml) daily, preferably mixed with fruit or vegetable juice or taken with sufficient liquid according to the therapist's instructions.
Do not exceed the recommended daily intake. Food supplements should not be used as a substitute for a balanced and varied diet.
Keep out of reach of small children. Store away from light, in a cool and dry place. Do not consume if the closure band is missing.
Properties "Mannayan MineralVit Gold 50 ml"
Free of:

Artificial flavors and coloring

, Dairy poducts (lactose)

, Genetic engineering

, Gluten

, Preservatives

Important Ingredients:

Zinc

Suitable for:

Lactose intolerance

, Vegan

, Vegetarian
Nutrient information:
10 drops contain on average:
zinc ...... 2 mg * chromium ...... 8 μg *
* corresponds to 20% of the rec. Daily dose according to the Nutrition Labelling Ordinance